If you need to transport your dog, give it a place to sleep at night or discipline it when it misbehaves, a dog cage is exactly the thing for the job. They have been around for years and are an essential part of daily life for some dogs and owners.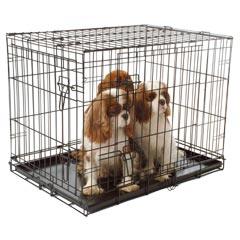 They go by a variety of names including dog crates and dog carriers but they are all the same thing: a cage made of metal with a door at the front. While some people may find it cruel to cage a dog, how else could it be transported? Is there a better way to separate two dogs that are fighting? Where else could a dog sleep?
Dog cages are ideal for bringing a new puppy home in as it can't escape and run off. Putting a blanket in the cage early on gives the pup a sense of comfort and you can even put a blanket over the cage to make it like a cosy dog house. It can be important to keep a new pup locked up if you have valuables or potentially dangerous pieces of furniture or even stairs. The last thing you want is to cause harm to a new dog, so better to keep it safe!
If you introduce a cage early enough, the dog will associate it as its own space and not see it as a place to be confined. This will keep the dog happy and not at all stressed. Dealing with a dog cage in a positive way is beneficial for promoting a nice environment at home for both dog and owner.
While a dog cage on its own can be a bit uncomfortable and depressing for a dog, if you put a comfortable pillow, bean bag or dog bed in there, it can instantly become somewhere relaxing to go. You should only close the door when necessary so the dog can come and go as it pleases.
There are cages of all sizes, shapes and designs that will accommodate every type of dog. Obviously there are price differences between different cages, depending on the quality and size, but generally you're looking at £30 for a standard sized cage. Yes this is much more than a dog bed or bean bag, but there is no substitute if you need to keep the animal in one place. From the smallest Chihuahua to the biggest Great Dane, a cage can handle them all.
Looking on the internet will reveal a fantastic range of dog cages. The biggest retailers like
Amazon.co.uk
and
Amazon.com
will obviously have a huge range, but other internet pet stores such as
Pet Supermarket
in the UK, and
Value Pet Supplies
and
Pets Warehouse
in the US are also great places to look. No matter what size or style of cage you're after, you'll find one at a very reasonable price online.
The bottom line is that dog cages are ideal for many circumstances, particularly transporting dogs. While they may be more expensive than regular plastic dog beds or bean bags, you can rest safe in the knowledge nothing can get in and your dog can't get out. Peace of mind is essential, as is making the dog as comfortable and relaxed as possible. Dog cages can do both!